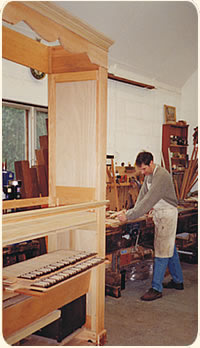 About Us
History

Mr William Boggis was apprenticed in London and worked at various times for many of the famous names in organ building - Gern, T S Jones, R Huntingford and Comptons. His new firm flourished, expanding its tuning and maintenance contracts and building new organs, including the one in St Remigius Church, Roydon, the home parish of the firm.
When in 1961, Mr Boggis was seeking a new apprentice, Rodney Briscoe joined straight from school. With a natural skill in woodwork, metalwork and all things practical, together with musical ability, Rodney took the work with enthusiasm, becoming a partner in 1972, then taking over in 1976 when William Boggis retired.




Having been apprenticed a the height of their fashion, Mr Boggis was an expert at pneumatic actions and Rodney Briscoe has learned this skill from him. This skill has been called upon on several occasions to repair and restore pneumatic actions where other efforts have previously failed.

Rodney Briscoe and his wife Sarah have run the business since then and
continued the growth in the number of tunings and the large variety of
traditional and modern organ building activities.