New organs * rebuilds * restorations * tunings * overhauls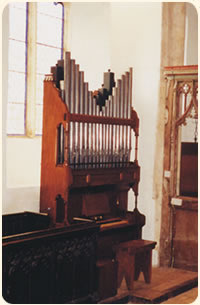 W & A Boggis celebrated its 70th Anniversary in 2002. From the new Roydonian Works in Roydon, near Diss on the Norfolk/Suffolk border, Rodney Briscoe, his wife Sarah and their team of skilled craftsmen continue the tradition of high quality workmanship in English organ building.

The services of the company cover new organs, restorations, rebuilds, overhauls and tunings.
We are skilled in working with mechanical and pneumatic actions and also the most modern digital systems.
We are used to working closely with churches to find the best solution for their organ needs - taking into account factors such as worship style, existing church furniture and, of course, finance.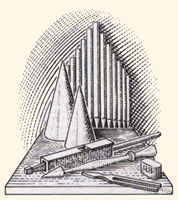 Among past work is:
new organs for Birdbrook, Essex; Walpole St Peter, Norfolk; Ewhurst, Sussex; Burstall, Suffolk; and in Norwich at St Elizabeth's and St Paul's.
a two-manual house organ for a private customer.
restorations or rebuilds have been carried out on a wide range of organs from three manual instruments at St Mary's Baptist Church and Holy Trinity both in Norwich, two manual organ at Ipswich United Reformed Church and one manual chamber organs at Thurlton Suffolk, South Acre Norfolk, Shelley Suffolk and relocations of organs from Holloway in London to Blofield in Norfolk and also from Westfield in Berkshire to Dickleburgh near Diss, with additions from St Mark's, Great Yarmouth.
tuning and maintenance contracts for over 300 churches.
Tunings

For our tunings we have an efficient system of notification a week in advance of the tuning visit date and all records and invoices held securely on a database.

We offer an emergency service which is second to none, for everything from removing cyphers, minor repairs, tunings for special occasions. When necessary we can be contacted at any time and we will come to church as soon as is required for special events and services.